To all movie lovers & fanatics, this post is for you!
Projectors surely do bring movie-watching on another level, specially action & dramatic movies with immersive scenes, eye-popping visuals & amazing sound effects. It gives you the Home-Cinema vibes, AND the comfort of having your own movie space is just incredible.
Now, choosing the right movie is key to the whole experience 😍
Get your popcorn 🍿 & snacks ready, we got you covered: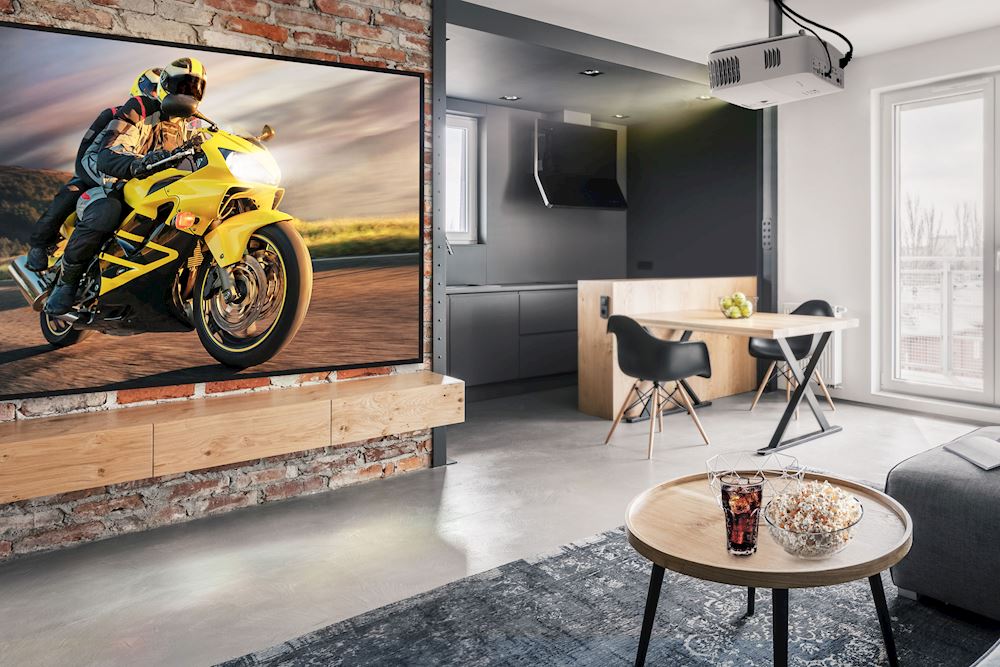 Movies to watch on a 4K Projector or HD Projector:
This below list is based on a collection of movies we have tested ourselves but there are soooo many other amazing movies to watch on a projector. Please let us know in the comments below about the movies you find amazing to watch on a projector!
1. Avatar & Avatar 2
Packed with amazing colors, action scenes & special effects, this movie directed by James Cameron, is among our top movies to watch in 4K. The surreal world of Avatar will make you want to jump inside the movie. And if you want a PLUS, make sure to get your 3D version of the movie and 3D glasses!
2. Fast & Furious Movies
This one is specially for those who are fans of full action & speed thrills. The series of the Fast & Furious is a mix of drama, ACTION, intense full-throttle action, awesome high-speed stunts & well, cars, lots of cars! We love the colors in the movies too, hence making it a great movie choice to watch on your Optoma Projector.
3. Jurassic World
Also packed with special effects, Jurassic World will make you jump with its adrenaline-packed scenes. Watching dinosaurs in 4K will truly be another experience you'd want to repeat. A great movie that will bring the family together!
4. Titanic
Moving on from Action-Packed movies, we are now on to one the most popular genre: Romantic movie. A classic and a movie not to be missed by anyone is: the Titanic. You will laugh, you will cry. Well, you'll definitely enjoy watching Titanic in 4K. It would be just like watching it in the theatres the first time it came out. Get comfy with your throw-on blankets, pillows, popcorns and [tissue paper for the soft-hearted ones]. Starring our well-known actors: Kate Winslet and Leonardo DiCaprio.
5. Toy Story or any other Pixar-produced movie
If you're a fan of cartoons, this one is for you. Set in a world where toys have a life on their own, the Toy Story movies are amazing to watch with the bright colors throughout the movie. This movie will bring you back to your childhood if you're adult and will take you on an adventure-filled journey! As usual, Pixar did more than an amazing job with the animations & color schemes.
6. Harry Potter and the Prison of Azkaban
Harry Potter & the Prisoner of Azkaban is the 3rd movie in the Harry Potter Movie Franchise. This movie leans more towards a mix of scary, suspense, mystery and fun, giving this movie a different vibe altogether, compared to the previous 2 movies, which were more geared towards children. We do loooove all the movies though, don't get us wrong please! But we found this particular movie perfect to watch on the 4K Optoma UHD38 Projector and we truly had an incredible experience that kept us glued to our seats!
7. Chennai Express
Bollywood movie lovers, we haven't forgotten about you! Chennai Express is one of the best movies to watch on a 4K projector because of the amazing landscapes & colors throughout the whole movie. This movie is fun to watch, with loads of humor, action, love & thrill! Starring our all time favorites: Shah Rukh Khan & Deepica Padukone.
Other than these, we're sure there are hundreds of other movies that are worthy of watching on a projector. Please do let us know in the comments what you guys recommend us the best movies to watch on a projector or the movies you've watched already using your projector! We might bring another list from that!
Thank you guys so much for reading 🙏😊 Till next Monday!
P.S.: Don't forget to check out our Optoma UHD38 4K Projector here: https://www.impress.mu/product/optoma-uhd38/