Choosing the right projection screen is halfway of getting an unbeatable home-cinema experience and that decision is equally as important as choosing your projector.
But, when it comes to buying a Projection Screen, it can be a little confusing as to which size to choose or which model would be more appropriate for you. This post will help you understand the different types of projection screens we have AND the optimal size according to your Optoma Projector model. After reading this, we're hoping to have cleared all your questions and that we have made you confident in choosing the right projection screen. Otherwise, we are here to help & assist you further and you can of course contact us on 249-8080 for more details. We'll be more than happy to help out!
STEP 1: Different types of Screens
First, you need to know that there exist different types of projection screens and while choosing the right type, you need to take into consideration where you'll be using it.
Are you dedicating a fixed place to install it? Or do you plan to make it more flexible and use it in various places (i.e. you intend to carry it to different places? But let's get into the types of projector before answering these questions.
We have 3 main models for our Projection Screens: Manual Screens, Motorized Screens and Tripod Screens.
(i) Manual Screens: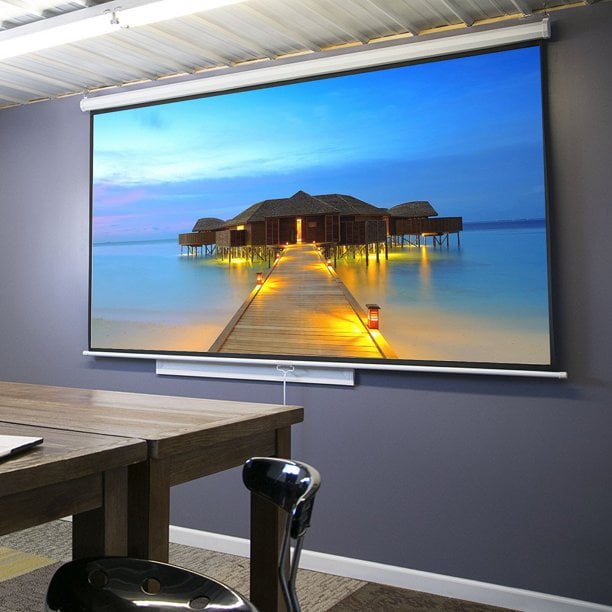 The Manual Screen is a manually retractable screen. It is really easy to use and to install and can be fixed on the wall or from the ceiling. This model is a budget-friendly and flexible as it allows you to retract the screen and hide it out whenever you're not using it. You can actually pull it to the desired height when you want to use it, and then lock it into place. This option is a tad more affordable than the Motorized Screen actually, hence making it a really popular model our clients often opt for.
If you intend to dedicate a fixed area/spot for the screen and if the price fits your budget, then this model would be perfect for you!
Great for: Home, Classrooms, Offices
(ii) Motorized/Electric Screens
Motorized/Electric Screens are also retractable projection screens but have an electric motor integrated which gives you the possibility to pull down and retract the screen using a remote control and not manually. It is an innovative system that allows you to close the screen discreetly and effortlessly. Motorized Screens are usually used for boardrooms and home-cinemas as they are flexible, modern and luxurious.
Great for: Boardrooms, Home-Cinema, Audio Visual Rooms
(iii) Tripod Screen
Tripod Screens are actually the portable solutions for you. With it steady tripod base, this type of screen are a great option if you wish to carry the screen to different locations, maybe for events or movies as well. This type of screen is suitable for business, study and leisure purposes. The Tripod is also a manually retractable screen but its casing is attached to the lower part of the screen, contrary to the two other types of screens.
Great for: Events, Home, Activities, Home
Now that you've known the types of projection screen we have, we're on to the next Step: Finding the right dimensions.
STEP 2: Finding the right dimension of screen
Now this step is really important. In order for you to choose the correct dimension for the screen (because there exist different sizes as well), we need to know the space available or the space dedicated for the screen. This will be very subjective. So, take note of the actual dimension available in your room.
STEP 3: Determine the Throw-Distance of your Projector
We also need to know the distance available between where you intend to fix your projector and the screen itself. Usually the optimum range for our projectors is: 1m – 12m. The throw distance will determine the size of the screen being displayed from the projector. The nearer the projector is to the screen, the smaller the projected image will be, and vice versa. We recommend a throw distance of about 4m-6m for an optimum image size.
STEP 4: Get your figures ready to calculate
After having gotten some the figures such as the dimensions of your space available & the throw distance, you can now input the figures using this 'Optoma Distance Calculator' below. You just need to input the model of your Optoma Projector and then the figures accordingly.
Optoma Distance Calculator: https://www.optoma.co.uk/projector-distance-calculator
There you go guys! After you guys get the optimal projection screen size, you can browse through our selection of projection screens and choose yours!

If you guys are still a little bit confused, please do call us and we'll help you choose your projection screen! You can email us on www.impress.mu or call us on 249 8080 for more info!